Weinverkostung in der Villa Angarano
Buchen Sie ihre Weinprobe in unserem Weingut
Verkostung von fünf Bio-Weinen in den Barrique-Saal der Le Vie Angarano im Hof der Villa mit einer Kostprobe von natives Olivenöl extra von den Hügeln des Familienbesitzes.
Es besteht die Möglichkeit die Weine von Le Vie Angarano und das Öl zu kaufen.
Dauer: 1 Stunde
Sprachen: Italienisch, Englisch, Französisch
Kostenanteil: €18 pro Person
Buchungen am Wochenende möglich beim Erreichen einer Mindestanzahl.
Auf Wunsch und mit einer Mindestanzahl von Teilnehmern, können lokale Produkte wie Asiago DOP Käse und Soprèssa Vicentina DOP die Weinverkostung begleiten.
Kosten für Aufschnitt und Käseplatte für eine Person: €15
Verkostung in den Barrique-Saal der Villa Angarano: Contrà Corte Sant'Eusebio 13, Bassano del Grappa
Standort https://goo.gl/maps/2CbXoS7kqb2C9jNQ8

Direkt buchen? HIER klicken.
Für Auskünfte, erreichen Sie uns unter +39 342 090 3198 (auch über Whatsapp/Telegram) oder senden Sie eine mail an: info@levieangarano.com
_____
Besuch der Villa Angarano
Es besteht die Möglichkeit die Villa Angarano durch einen geführten Spaziergang zu besuchen.
Beginnend bei den Barchessen des Andrea Palladio, weiter zum grossen Park aus dem 19. Jahrhundert und den Gewächshäusern, das mit Fresken bemalte Fasanenhaus und dem Brolo (Gemüse- und Früchtegarten). Schließlich besichtigt man die Kapelle von Santa Maria Maddalena und die Alten Stallungen.
Dauer: 45 Minuten
Sprachen: Italienisch, Deutsch, Englisch, Französisch
Für Auskünfte oder Buchung erreichen Sie uns unter +39 0424 503086 oder senden Sie eine mail an info@villaangarano.com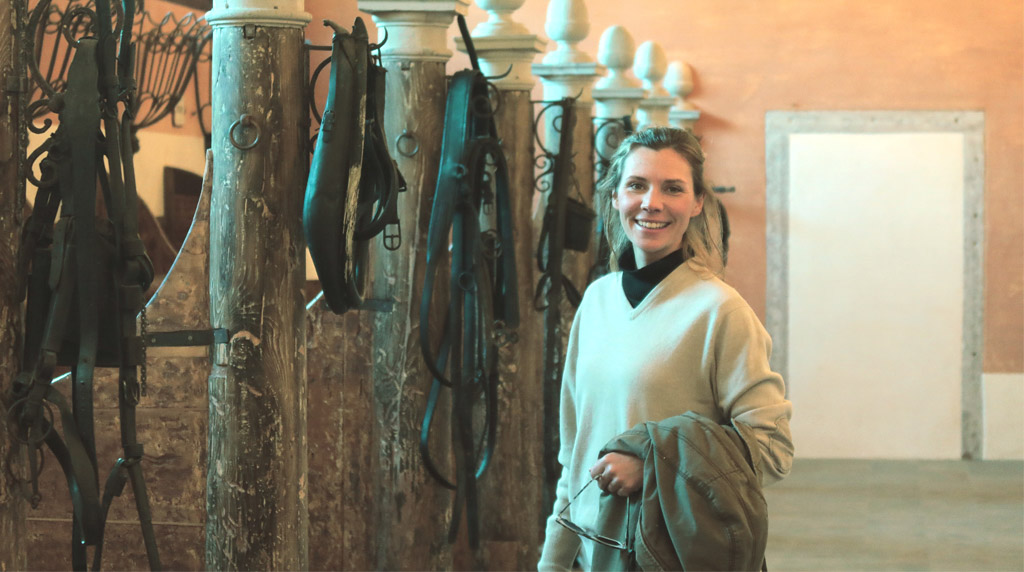 Thursday 7 September 2023

Abendessen im Weinberg / Vineyard Dinner

The magic of an exclusive event
is back to Bassano del Grappa:
a fine dinner
in a dim light
Le Vie Angarano organic wines
the vineyard embraced by the Palladian Columned Porches of Villa Angarano
the sunset behind the hills
staying together.

In collaboration with Villa Angarano and Ristorante B38.

More details coming soon.

Limited seats, by reservation only.

For more information:
Le Vie Angarano – T. +39 342 090 3198 | info@levieangarano.com
RistoranteB38 – T. +39 424 524988 | info@ristoranteb38.it

Past editions' pictures:
SUNDAY 21 MAY 2023

XIII National Day of Italian Historic Houses Association

PROGRAM

11.00 | 15.00 | 17.00 hours
Free guided visit of the Palladian Columned Porches, the Farming Courtyard, the Park, the family Chapel of S. Maria Maddalena and the Ancient Stables. Exceptionally, it will possible to enter the noble floor of the manor house, which is currently lived by the family Bianchi Michiel, owner of the villa.

12.00 | 16.00 | 18.00 hours
Guided tasting of Le Vie Angarano organic wines inside the Barrel Room. €12 per person.

From 11.00 to 18.00
Organic Wine and Olive Oil Shop open.

Inside the manor house and the church, taking pictures is not allowed.

For information and reservations:

Tel. +39 424 503086 | +39 342 090 3198 (also via WhatsApp or Telegram)
Email: info@villaangarano.com
Vineyard Aperitif
We wait for you for an Aperitif in the Vineyard at sunset, between merlot and cabernet vine rows, in front of the unique scenery of Villa Angarano, with oak barrels, candles and the estate's organic wines.
Limited-seats event, booking compulsory.
Choose a Wine Glass or a Bottle, take your seat and enjoy your time with your friends!  You can choose among our fresher organic wines:
€ 5 deposit for the glass (you return the glass, we return € 5).
For more information and bookings: +39 342 090 3198 (also WhatsApp or Telegram)
In case of bad weather, the event moves in Villa Angarano's Farm Courtyard, in front of the Barrel Room.
See you in September 2022!
20 April, 4 and 25 May, 8 June 2022

VERTICALS

4 exclusive evenings, 4 tastings in the winery

A vertical is a tasting of the same wine in different years. We've created four evening to get you know the best vintages of Le Vie Angarano wines, the evolution and the surprises that time gives to us.

We'll gather in the Winery, where our wine is born, on a big table, to share some good and different time together, sipping vintages selected from the archive, tasting a local cheese, talling stories about our place.

Event 1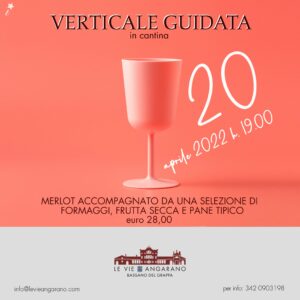 Wednesday 20 April, at 19.00 hour
Guided tasting of Merlot MASIERO, the wine suitable for the every-day table, rich in stories of men and women, and the hard work of the land in the past.
Vintages: 2018 – 2015 – 2010 – 2008
Pairing: a selection of cheese of Fattoria San Michele, dried fruits and home-made bread.
Price: €28
Event 2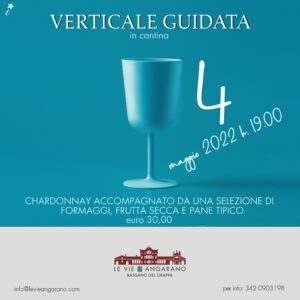 Wednesday 4 May, at 19.00 hour
A white that deserves a vertical, the Chardonnay MICHIEL, its "dogi" name represents the house's historical significance.
Vintages: 2017 – 2014 – 2012 – 2009
Pairing: a selection of cheese of Caseificio Pennar, dried fruits and home-made bread.
Price: €30
Event 3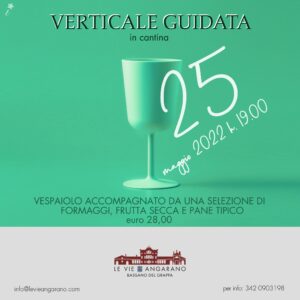 Wednesday 25 May, at 19.00 hour: great ending with award!
Come and play with Vespaiolo BRENTA vintages that tell about the story of Bassano del Grappa. Taste it blindly and the one who guesses the vintage, will receive a free tasting of four wines in Le Vie Angarano's Barrel Room.
Pairing: a selection of cheese of Vecchio Mulino, dried fruits and home-made bread.
Price: €30
Event 4
Wednesday 8 June, at 19.00 hour
Vertical tasting of eminent Cabernet QUARE, the great wine of the winery, proof of longevity and resilience.
Vintages: 2017 – 2015 – 2011 –  2007
Pairing: a selection of cheese of Malga Monte Asolone, dried fruits and home-made bread.
Price: €30
——
It is possible to participate to a single event or to all four at a special price of €100.
AIS and FISAR members with valid  membership card get 10% discount.
The event takes plase inside the Barrel Room, in Villa Angarano's Courtyard, Contrà Corte Sant'Eusebio 13, Bassano del Grappa.
For information and bookings, contact us: +39 342 090 3198 (also via WhatsApp/Telegram) | info@levieangarano.com
Sunday 8 May 2022, from 11.00 a.m.

Pic Wine

PIC WINE in the vineyard in front of Villa Angarano has come, a picnic combined with good wine in one of the best corners of Bassano del Grappa.

You just need to bring a towel or a blanket, lay on the grassy field surrounded by the vine plants, relax and enjoy your time with old and new friends.

We will prepare a packed lunch with delicious local food: home-made bread sandwich with Sopressa and/or cheese at your choice | hard boiled egg | a tasty nut cream pie by La Bottega dei Dolci | a juicy fruit | a 500ml carton brick of Fonte Margherita water | a glass of Le Vie Angarano organic wine.

Thirstiest guests can choose among 4 wines available in the field (by the glass or bottle).

At 11.00 a.m. and at 4.00 p.m. we invite you to join the brief walk guided by Giovanna Bianchi Michiel through the vineyard till the Brolo, the private orchard of the villa where the white grape vines grow safeguarded.

P.S. Leave your car home, come by bicycle! You will receive a special treat for this small but big action so important for us and the environment.

Booking compulsory within Friday 6 May, please subscribe here (please remember also to sign the photo release form!)

Entry cost: €25 per person
€5 deposit for the glass
Die besonderen Momente

Termine nicht verpassen

Die wichtigsten Ereignisse des Jahres