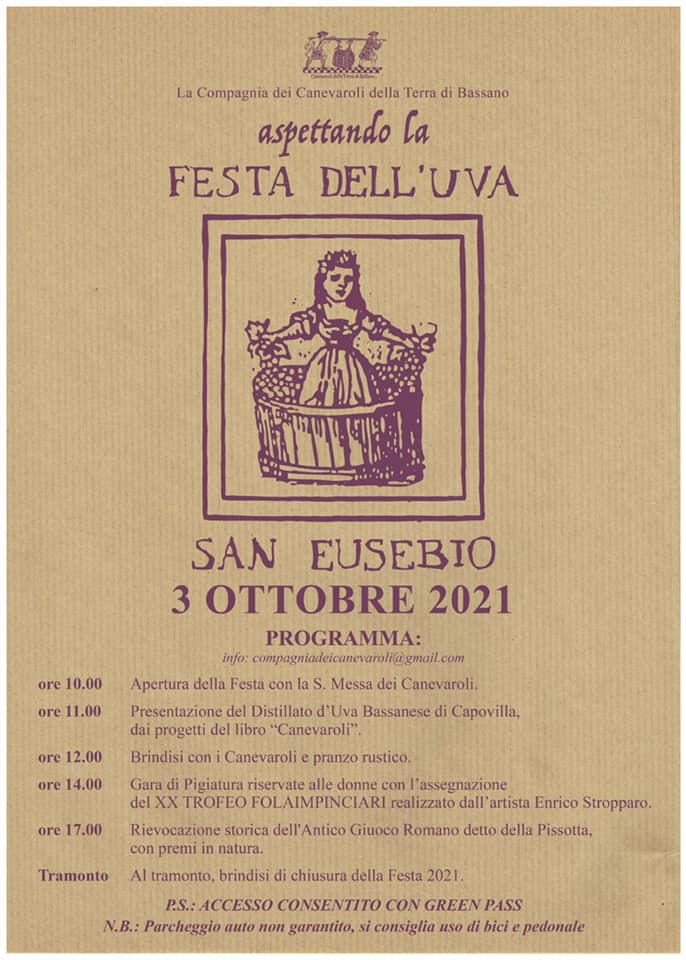 Sunday 3 October 2021 see you in front of Villa Angarano for "Waiting for the Saint Eusebio Harvest Festival / FESTA DELL'UVA SAN EUSEBIO", reduced edition from 10.00 a.m. till sunset.
PROGRAM
10.00 hour  Festival opening with saint mess of Canevaroli
11.00 hour   Presentation of Capovilla's Spirit made with "Bassanese" native, from "Canevaroli" book's projects
12.00 hour   Toast with Le Vie Angarano wines by the Canevaroli and rural lunch
14.00 hour   Stomping Grape Race for women only with "XX TROFEO FOLAIMPINCIARI" Award handmade by artist Enrico Stropparo
17.00 hour   Historic reconstruction of the "Antico Giuoco Romano detto della Pissotta", the ancient Roman game of Pissotta, awards in kind.
Sunset           At sunset, closing toast
Entry for Green Pass owners only.
No parking guaranteed, we recommend using a bicycle or coming by foot.
For information: compagniadeicanevaroli@gmail.com