Everything is connected, like the blood that bonds a family
The "Regestum possessionum comunis Vincencie" written in 1262 is the first document that witnesses the existence of vineyards in the current Villa Angarano's lot. Such property register is a precious document, because it proofs a vineyard composed by vine rows only, without other types of cultivations that, instead, were present in the area.
Today the vineyard surrounds Villa Angarano as Architect Andrea Palladio designed it in 1548. The estate is a "Villa-Farm", not only a house, but also headquarters of farming activities and land property management. A winning plan. Soil and lineage. Wine and heart. Everything is connected into a perfect harmony, it grows and combines, it endures and strengthens itself in the time.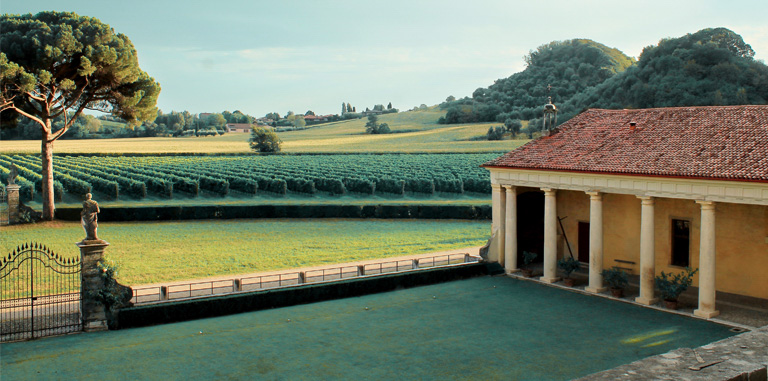 The vineyard is located in Bassano del Grappa, in the eastern part of DOC Breganze area.
We are at the foot of Mount Castellaro, between the end of Valsugana valley and at the beginning of Asiago Plateau. Mount Grappa is on the background, the river Brenta is on our right. Among soft hills and century-old olive groves, in a landscape reminiscent of nineteenth-century postcards, the eight-hectare vineyard extends on an alluvial and clay soil.
Thanks to a sharp temperature range between night and day, and thanks also to the morning wind blowing from North to South like a light wing beat of a migrant birds' flock, it takes shape a microclimate that favors the varietal conservation of a vineyard unique for its type.
We personally manage the lots during all phenological stages, we apply practices aimed to a limited and high-quality production, meanwhile we maintain a vegetal-productive balance always related to the weather trend.
We have attended biodynamic classes, committing to precise principles in order to confer more balance to our work. Our vine pruners have trained according to Simonit & Sirch method: the objective is pruning the vine respecting and preserving the health condition of the plant. Concretely, this method teaches to prune always the youngest part of the plant with a slow and focused approach. In such way, we do not compromise the plant's vascularization; we lower wood disease risks and extend life cycle and productivity. Consequently, not only do we reduce phytosanitary treatments and costs, but also we respect the environment.
The winery achieved the Organic Certification.
Historic centres
Arts and Architecture
Sport
Enogastronomy
Historic centres
Must see
Bassano del Grappa: you cannot help by "give each other the hand and a love kiss" on the famous Old Wooden Bridge, known also as the Alpini's Bridge, originally designed by Architect Andrea Palladio. It is obligatory to enter the Grapperia Nardini, a spirits bar facing Brenta's banks since 1779. But also the Museo Civico, the Palazzo Sturm and the Remondini collection.
High-quality shopping: every shop, bar and restaurant that show "Bassano KM Quadro" red sticker on its window.
Marostica: 7.5 Km from Bassano. It is famous for its Chess Square where every two years more than 600 people dress up as medieval characters to personify the pawns and play a living chess game. It is worth walking up to the superior castle, from which there is a breath-taking view of the Venetian plain.
Cittadella: 14 Km from Bassano. It is famous for its city walls and a completely walkable watch passage, the only one of its kind in Europe.
Asolo: 16 Km from Bassano. We recommend vising the house of Freya Stark, British writer and explorer born in Paris in 1893 and died in Asolo in 1993. Have a walk up to "La Rocca", the fortress of Asolo, the dwelling of Caterina Cornaro, Queen of Cyprus with Venetian origins, in late fifteenth century .
Arts and Architecture
Sport
Enogastronomy